Central to the religious life of the school is the person of Jesus Christ who came among us 'as one who serves' (Luke 22.27). Our Catholic school is committed to reaching out to help those in need, through charitable outreach initiatives. All outreach activities connect to the person of Jesus Christ and to the sacraments, especially the Eucharist. Drawing on the Catholic Social Teaching of the Church, we have a deep commitment to supporting a range of charitable organisations, families and individuals in need.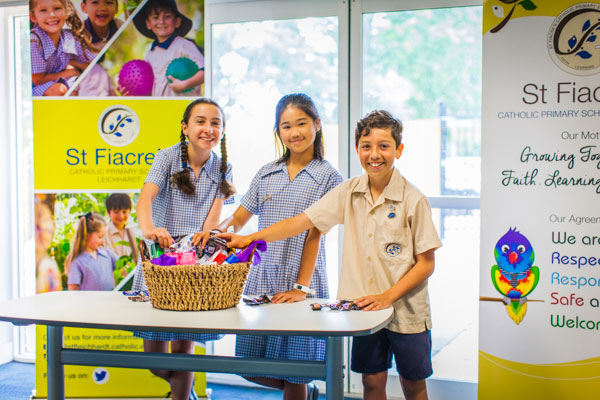 Within the total school curriculum is our Religious Education Program.  It focuses on the children's growth in religious knowledge and understandings, skills, values and attitudes. Central to the program are the children's own lived experiences, Scripture, the doctrines and traditions of the Church and celebration through prayer, the Eucharist, the sacraments and other forms of worship.
The students, teachers and school community of St Fiacre's Catholic Primary School Leichhardt value Service and Compassion. To demonstrate this we regularly organise collections to support St Vincent de Paul, the Friar's Van and the local nursing home. These collections can include the creation of snack packs for St Vincent de Paul, gifts of cards and Easter eggs for residents of the nursing home and chocolates for the Friar's Van to distribute amongst the people they serve in the community. We also participate in the Lenten program of Caritas and raise money for Project Compassion through fun days and activities at school. The children of St Fiacre's are integral to all this fundraising and the collections as they sort and pack the collections.